CONSONANT & VOWEL ILLUSTRATIONS

These two sets of
illustrations include 15
consonant and 20 vowel
charts, each 7.5" x 9.5".

They are invaluable for
illustrating the production
of speech sounds. Use
them whenever you need
a graphic representation
of the consonants and
vowels of English.

Charts are printed in
three colors on heavy
card stock and come
spiral bound with a
sturdy cover.

Includes all consonants
and vowels of English,
including the front (light)
and back (dark) "L"
sounds, and diphthongs.

Practice words on the back
of each chart (arranged in
minimal-pair contrast)
contain the consonants in
initial, final and medial
positions.
SPEECH PRODUCTIONS ILLUSTRATIONS:
CONSONANTS AND VOWELS
Arthur J. Compton, Ph.D.

.A clear visual representation of each consonant and vowel sound of American English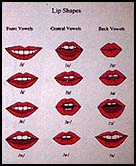 Vowel Lip Shapes
Ideal for teaching:

foreign speakers of English

students learning phonetics

deaf and hearing-impaired clients

aphasic adults

people with neuro-muscular disorders


adolescents and adults with speech
disorders