PRE-SCHOOLERS SCREENING EVALUATION
This is an adaptation of the
original Compton English
screening evaluation

To the extent possible, it
parallels exactly the English
counterpart.
This

allows for
direct comparisons for most
test items, when both the
English and Spanish tests
are given.

Field tested with over 250
children from Spanish
speaking families
representing
virtually all Latin American
countries of origin.

Age profiles and "Pass/Fail"
guidelines are included

Audiogram included for
optional hearing screening

Skills Tested

Articulation

Vocabulary

Memory Span

Shapes and Colors

Fluency

Grammatical Usage

Oral Mechanism

Motor Coordination

Spontaneous
Language

Compton Speech and Language Screening Evaluation
SPANISH VERSION
COMPTON SPEECH & LANGUAGE
SCREENING EVALUATION OF CHILDREN
SPANISH EDITION
Arthur J. Compton, Ph.D. & Marlaine Kline, M.A.
Use in conjunction with the English Evaluation to compare
the English and Spanish skills of bilingual children
or
use for monolingual Spanish speaking children
This evaluation is organized to make the most of your time by assessing many skills simultaneously. Colorful toys and everyday objects used in the test keep children interested and involved.

Testing takes only 6-10 minutes.

Easily administered by a bilingual speech pathologist or by a
trained bilingual aide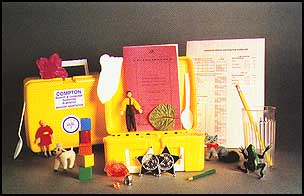 ASSESSMENT KIT INCLUDES:
= Lunch Box carrying case
= Manual & stimulus pictures
= Stimulus toy objects
= 25 response-analysis forms