PRE-SCHOOLERS SCREENING EVALUATION

You will avoid intimidating
or boring young children
when you use this screening
test

Unlike other screening tools,
the assessment uses colorful
toys and interesting everyday
objects to keep the child's
attention and create a "play"
atmosphere.

Age profiles and "Pass/Fail"
guidelines

Audiogram included for
optional hearing screening

Skills Tested

Articulation

Vocabulary

Memory Span

Shapes and Colors

Fluency

Grammatical Usage

Oral Mechanism

Motor Coordination

Spontaneous
Language

Compton Speech and Language Screening Evaluation
ENGLISH VERSION
COMPTON SPEECH & LANGUAGE
SCREENING EVALUATION OF CHILDREN
ENGLISH EDITION
Arthur J. Compton, Ph.D.
Assess children's speech & language comprehension and production
in minutes

No time is wasted with this language test for 3-6 year olds.


Organized to avoid repetition and take advantage of spontaneous
conversation, it evaluates a wide range of skills in only 6-10 minutes .
Authorís comment: Several years ago, a colleague asked me if I could devise a speech and language screening evaluation for preschool children that could be administered in less than 10 minutes. My initial response was, "thatís impossible." Later, the prospect seemed intriguing, and I undertook the venture. The present evaluation is offered to you as the product of having successfully accomplished that original objective. AJC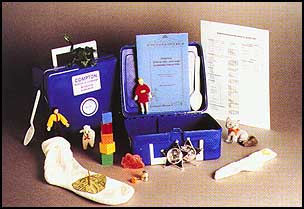 ASSESSMENT KIT INCLUDES:
= Lunch Box carrying case
= Manual & stimulus pictures
= Stimulus toy objects
= 25 response-analysis forms