TRANSCRIBING CHILDREN'S MISARTICULATIONS

An easy-to-follow, step-by-
step, training program.

Fills in the gaps and a long
standing deficit in the
training of speech
pathologists who rarely
receive the type of
instruction and practice
required to master the
specialized problems of
transcribing the deviant
speech of children

Provides the extra skills
and notations you need
to transcribe those
difficult and unusual
speech sounds.



Phonetics for Children's Misarticulations

PHONETICS FOR CHILDREN'S MISARTICULATIONS
Arthur J. Compton, Ph.D.
Learn to transcribe those elusive children's
misarticulated sounds easily and accurately
Available in
Cassette-Tape
Format

Includes over 160 audio samples of children's disordered
speech sounds (selected from more than 200 diagnostic
Evaluations.)

Illustrates 28 different types of speech errors

Includes several examples of conversational speech to
demonstrate different intelligibility problems found in
severe speech disorders.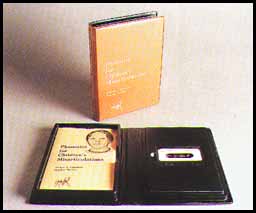 The program includes: Manual, Audio-Cassette tape, and a carrying case.
The 50 page manual provides a table of specialized phonetic notations, explains the variables which often interfere with precise transcription, and gives a description and transcription of each speech sample on the audio cassette tape.