A complete audio/visual reproduction of all practice materials:
This technology embodies the Idealized Model for Mastering Spoken Language:

Students listen to a verbal
stimulus.

Records his/her attempt
to match it.

Instantly hears a play-
back of the "stimulus-
response" pair (providing
immediate feedback and
confirmation of the
"degree of match").

Repeats the procedure
until satisfied.
Each program includes a CD-ROM and 125-page manual containing:

Normative data of the
accent patterns for the
specific native language.



Descriptions of the basic
English sounds.



Explanations and
illustrations for the
phonetic symbols.

Lesson plans, practice
exercises and scripts.

Guidelines for study and
evaluation.
Compton Foreign Accent CD-ROM Program
COMPTON FOREIGN ACCENT
IMPROVEMENT SERIES
Arthur J. Compton, Ph.D.
CD-ROM Format Practice Program
INSTANT RANDOM ACCESS
Maneuver through all exercises with a "click" of your mouse.

Same CD-ROM Works for PC/Windows and Macintosh
Order one Program for
every client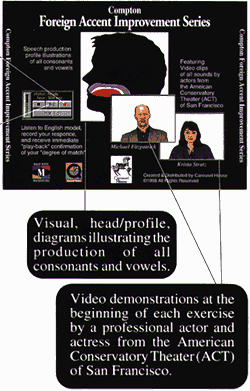 Practice Materials are also Available in Audio CD or Cassette-Tape Format

The Superior Listing and Recording Quality of the Cyber Acoustics Heaset and Microphone will:

significantly enhance your CD-ROM practice experience and


provide greater privacy during practice.

Order the Cyber Acoustics Headset / Mic
with your CD-ROM purchase and
Receive a $2.00 Discount